What Is It?
Nexus Marketing offers a service to help our clients line up cross-marketing opportunities like webinars with our publishing partners. We can work closely with you to develop a series of topics specific to your brand and expertise, create content to support speaking engagements, and conduct outreach on your behalf to line up opportunities within our network.
We already have a free platform, called HAPO (which you can read more about here), to make connections between our clients and partners in the industry. The Speaker Series offering goes a step further, with Nexus actively working with you to generate topics to pitch to partners, create supporting materials, and source engagements specifically for you.
How It Works
Nexus already works with a network of partners to share content and other cross-marketing opportunities.
We work with you to understand what types of speaking engagements you're interested in, audiences you would like to reach, and what ideas you would want to cover.
Nexus will generate a list of proposed topics and work with you to create supporting materials for speaking engagements.
Once we have those materials drafted, we'll reach out on your behalf to our partners in our network who we think would be a good fit.
We'll coordinate meetings between your two teams and help finalize materials to support the collaboration.
After the opportunity, we will follow up to ensure any marketing lists are shared and any other agreements are carried out.
Why Do Cross-Marketing Outreach?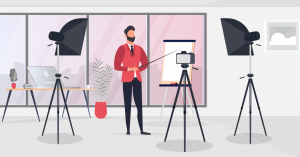 Beyond blog content, cross-marketing activities like webinars help you build brand recognition and authority in your industry. By working with partners throughout the social good space, you have the opportunity to reach new audiences and work with other influential brands. Additionally, opportunities like webinars create valuable resources such as marketing lists that can help with lead generation.
Getting Started
If you're interested in having Nexus create content for your speaking engagements, reach out to your account manager for more detailed information regarding pricing and hours based on your engagement.
https://nexusmarketing.com/wp-content/uploads/2021/09/NexusOfferings.gif
800
2000
jessica.king
https://nexusmarketing.com/wp-content/uploads/2021/03/Nexus-Marketing-logo-1-2.png
jessica.king
2021-09-17 15:09:58
2021-10-26 17:41:28
Nexus Marketing Speaker Series